Despite the difficulties that the airshow circuit is experiencing this season we are very fortunate to have almost fully filled our calendar with commitments. 
The full events schedule can be found here.
Our engineers have not been idle and this year ZB627 will be sporting a new colour scheme - taking her back to her days as an NVG recce aircraft for the RAF Chinook fleet.
As an added treat we flew two aircraft in to Naomi House with the Easter Bunny delivering chocolate and smiles to everyone.
Both the air and ground crews are fully ready with our statutory training, annual licence checks and Display Authorisations completed for 2023 - all that remains is some fine tuning to the four ship display which will have it's first outing on Saturday 20th May at The Abingdon Air & Country Show.  
We are very excited it perform it again shortly afterwards  at The Midlands Air Festival 2nd - 4th June.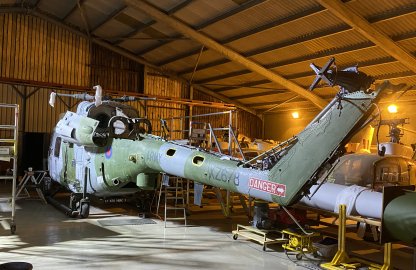 The work on XZ678 our ex Army Lynx AH7 is progressing nicely, it's complete overhaul is very well underway and we hope to return her to the skies in 2023. 
A number of the Squadron last flew her in 1987 when she was a Mk 1 Lynx and are understandably very excited to be involved with seeing her fly once again.
The Lynx renovation project can be followed here.
---